Wie konvertiert man TIFF zu PDF
Mit dem Image Converter Plus ist es sehr einfach, TIFF in PDF-Dateien zu konvertieren. Wählen Sie im Windows Explorer eine Datei im TIFF.Format aus und klicken Sie auf die rechte Maustaste. Im Kontext-Menü wählen Sie "Konvertieren zu" und klicken Sie auf die gewünschte Konvertier-Option.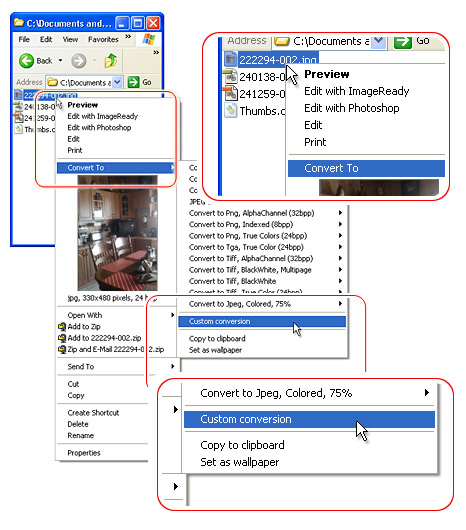 Die Liste wird bereits die im Windows Explorer gewählten Bilder enthalten.
Um weitere Dateien hinzuzufügen, klicken Sie auf "weitere Bilder" und können nun zusätzliche Dateien im TIFF-Format auswählen, die Sie ins PDF-Format konvertieren möchten. Wählen Sie PDF als Ziel-Format.
Expand "Save images in PDF format" group and adjust any needed settings. Available colors are from 2 to 256 colors. Available color depth is 8, 24, 32 bits.
Available compression types:
Besides color depth, you can also select conversion type:
separate file - all images, single-page as well as multipage, will be saved as separate single-page files.
multipage file - all converted images will be included into one separate file. Page numbers are assigned according to the file list.
as is - all images will be saved according to the structure of source files.
add pages to file - converted images are added to the specified file. If the file doesn't exist, it will be created.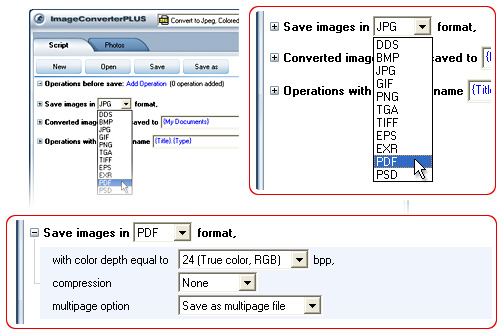 Starten Sie den Prozess.